What All the Songs Add Up To, poems by Greg Masters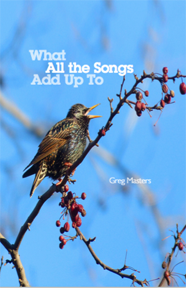 NEW YORK, June 2016 – Crony Books is pleased to announce the publication of What All the Songs Add Up To, a book of poems by Greg Masters.
Forty years of poems from the East Village of Manhattan, a community of artistic and social vibrancy amid the nation's detritus. From the mid-1970s to 2016, the poems range from expressions of youthful concerns – fueled by rock and roll, freedom and excess afforded by bohemian existence and rebellion against mainstream values – to perhaps more mature reflections and observances – and wariness of mainstream values.
When he arrived in Manhattan's East Village in the mid-1970s, Greg Masters pounded rock and roll drums in basement clubs, dives, "alternative" spaces, CBGB and Irving Plaza and began attending readings and workshops at the Poetry Project at St. Mark's Church and the Nuyorican Poets Cafe. Along with Michael Scholnick and Gary Lenhart, he edited the poetry magazine Mag City from 1977-1985. In 1977-78, along with a crew of poet comrades, he organized and produced a cable TV show, Public Access Poetry, now available online thanks to the Poetry Project. From 1980-83, he edited the Poetry Project Newsletter. His poems have appeared in a number of glorious obscure publications. This is his fifth book from Crony Books. Two more are scheduled for fall 2016 – stories and journals.
"Greg's writing is so descriptive and candid and perfect."
– Chris Kraus, author of Summer of Hate and I Love Dick
The 108-page paperback, What All the Songs Add Up To (978-0-9859267-7-9), is for sale online for $15 at Amazon, Barnes & Noble, Angus & Robertson and other bookstores and distributors, domestic and global.
An ebook version (978-0-9974285-0-6) is available globally for around $6.99 (U.S.) from most online sources, including Amazon Kindle, iBooks, Nook by Barnes and Noble, Kobo, Copia, Gardners Books, National Book Store, Baker & Taylor and more.
Review copies, images and more information are available from greg@cronybooks.net.
Hear Greg Masters reading from this book here.
---
For the Artists: Critical Writing, Volume 2, by Greg Masters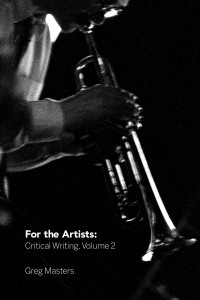 While For the Artists: Critical Writing, Volume 1, issued earlier in 2014, focused on Masters' collected writings on the visual arts, this new volume gathers reviews of music and books, including critical essays and an interview with musician/writer Richard Hell.
Perhaps most prominent are a series of essays on the electric period of Miles Davis. In-depth reviews examine the aural sensations this creative artist forged in the late 60s through mid-70s, a continual reinvention of sounds that, as Masters claims, is "rebellious in its uncompromising intensity and uncategorizable for its urgent flooding past genre definitions."
The eclectic book also examine the work of Gertrude Stein, William Wordsworth, William Carlos Williams, Blaise Cendrars, Eileen Myles and Chuck Wachtel, among others.
Age of Mimeo  •  Animal Logic  •  Bluestones and Salt Hay  •  Buzzcocks  •  William Burroughs: Letters to Allen Ginsberg  •  Blaise Cendrars: Collected Poems  •  Miles Davis: The Cellar Door Sessions 1970  •  Miles Davis, The Complete On The Corner Sessions  •  Miles Davis: Electric Miles  •  Miles Davis: Review of two new books on the making of Kind of Blue  •  Miles Davis: Review of Wall to Wall Miles, a tribute at Symphony Space  •  Allen Ginsberg  •  Charlie Haden: Liberation Music Orchestra  •  Richard Hell/Amanda Uprichard Interview  •  Deborah Holland: Freudian Slip  •  Mag City  •  Edgar Lee Masters: Spoon River Anthology  •  Eileen Myles  •  Finding and Not Finding Voice: Gertrude Stein's Three Lives  •  Chuck Wachtel: Joe the Engineer  •  Chuck Wachtel: The Gates  •  William Carlos Williams/Marcia Nardi  •  Woodstock  •  Wordsworth and the Sublime
____________________________________
The ebook edition (ISBN: 978-0-9859267-4-8) is available for $3.99 from:
iBook Store (iTunes)
Amazon Kindle
Barnes & Noble (NOOK Book)
Kobo
Baker & Taylor
Copia
Gardners (Europe)
e-Sentral (Malaysia)
Scribd
Goodreads
Oyster
Flipkart (India)
Ciando
––––––––––––––––––––––––––––––––––––––––––––––––––––––––––––––––––––––––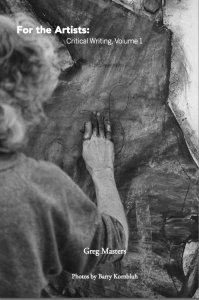 For the Artists: Critical Writing, Volume 1
by Greg Masters
with photos by Barry Kornbluh
This collection chronicles an exciting time in the artworld of 1980s Manhattan when a burgeoning gallery scene in the East Village evolved to rival the more established gallery outposts on 57th Street. And, Greg Masters, writing for a number of publications, covered it all – the well-known names and the upstart younger painters, photographers, sculptors, film-makers and creative folks working in various media pushing boundaries and complementing the existing legacy system more accustomed to uptown sensibilities.
Illustrating the text are 10 artist portraits by internationally acclaimed photographer Barry Kornbluh, as well as a number of reproductions of artists' work, including two never-before-published drawings by Jean-Michel Basquiat.
Greg Masters brings a streetwise beat reporter's savvy to his assignments. His interviewer's questions are always to the point, intelligently formulated, and tactfully posed. When he comes to process his experiences with artists, it is his poet's eye and ear that come into play. These words Masters wrote about Larry Rivers apply equally well to Masters' own approach: "He dismembers the expected and embellishes the familiar." – Vincent Katz, poet, author and critic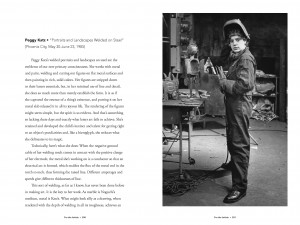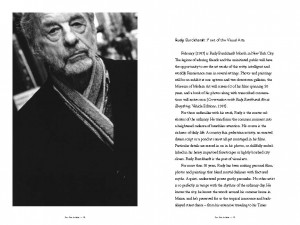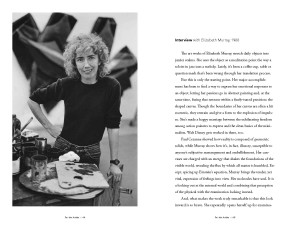 Interviews with:
Rudy Burckhardt, Philip Hartman & Doris Kornish, Jean Holabird, Sam Messer, Elizabeth Murray, Larry Rivers, Sandy Skoglund.
Reviews of gallery and museum shows by:
Colette Alvarez Urbajtel, Suzanne Anker, Chet Augustine, Milton Avery, Adam Bartos, Jean-Michel Basquiat, Peter Bellamy, Joseph Beuys, Ronald Bladen, Chris Bobin, Suzanne Bocanegra, Rudy Burckhardt, Rene Burri, Marc Chagall, Stuart Davis, Werner Drewes, John Duch, Don Freemann, Omar Galliani, Michael Goldberg, Stephen Greene, Robert Hameline, Louise Hamlin , Eric Holzman, Yvonne Jacquette, Joel Janowitz, Bill Jensen, Barrie Karp, Minoru Kawabata, Peggy Katz, John Kennard, Deborah Maverick Kelley, Basil King, Kitty Klaidman, William Klein, Barry Kornbluh, Pamela Lawton, Stephanie Brody Lederman, Helen Levitt, Wyndham Lewis, Sally Mann, Shelley Marlowe, Randy Matusow, Rosemary Mayer, Karl A. Meyer, Joseph Koudelka, Eugene Richards, Gladys Nilsson, Isamu Noguchi, Robert Orsini, Park Avenue Cubists, Ljubomir Rastovski, Scott Richter, George Schneeman, Emil Schumacher, Johan Scott, Andres Serrano, Barbara Siegel, Sandy Skoglund, Jim St. Clair, Michelle Spark, Surrealism, Alphonse Van Woerkom, Edouard Vuillard, Sasha Waters, Todd Weinstein, David Wilson, Trevor Winkfield, Francesca Woodman, William Zorach, Michael Zwack.